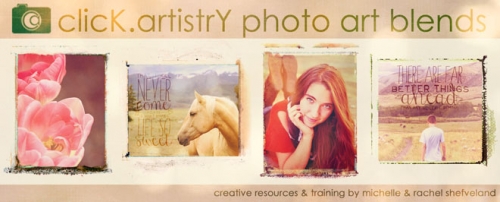 Hi all…lots to share today! We're excited to announce our third digital art class with Adobe training experts, Digital Scrapper: ClickArtistry – Photo Art Blends. Rachel is co-teaching with me and Kris played a technical role in video production and testing. A family labor of love for the past few months!
In the old days, creating a Polaroid transfer was cumbersome and involved messy chemicals and hit or miss luck.
But all that has changed with the digital age.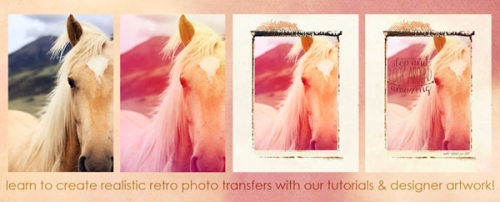 In this exciting class, we will lead you step-by-step in 10 Lessons (and 4 videos) through the process of creating unique fine art pieces out of your own photography, using our new, innovative techniques and digital art tools… without the mess, chemicals, and expense!
To Make Great Art You Need The Right Tools!
WE have included a one-of-a-kind designer art/digital tool collection that will guide you in making beautiful art with your images. It includes all-new art:
18 innovative Photo Art Blends (5 styles in varying sizes)
10 different Photo Transfer Edge Frames
8 artistic Word Art Overlays with inspiring quotes
12 custom Gradients
18 Designer Textures in 3 sizes each (8×10, 12×12, and 12×18 – 56 total)

Get Inspired!
In this class you'll have access to many examples of gorgeous photo art blends to get your creative juices flowing.
In addition, We also offer special printing tips and ideas for DIY display projects.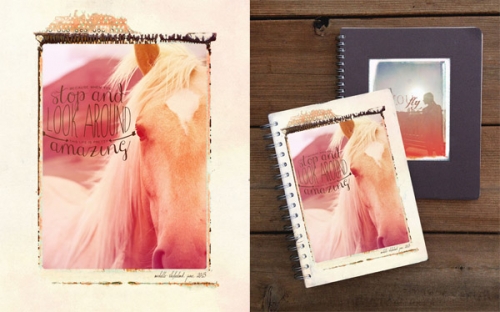 Here Are Just Some Of The Specific "Gems"
You'll Discover In This Unique Class of 10 Lessons (along with 4 videos):
Add light leaks to your photography. It's all the rage, and it's very easy to do with our custom gradients!
Edit your photos in 3 different trendy styles: moody, vintage, and retro to use in your digital artwork and scrapbooking
Blend our art textures with your images for spectacular results. (Includes cool bokeh textures!)
Add the perfect sentiment to your photo by choosing from our word art collection.
Apply custom artistic edges to your photos with our frame collection. This transformation takes seconds, but it will look like you slaved over it!
Use our designer art to enhance traditional digital scrapbooking so that your pages stand out like a neon sign in the gallery!
Display your amazing new art as home decor, and create unique DIY gifts.
Plus you'll be inspired by our Pinterest boards that relate to the class lessons. (You'll get tons of ideas from this alone.)
Important Note: for those who have any of our earlier Photo Art Blends, you will be happy to know the Photo Art Blends included are all new, involving different techniques. Combined with the textures, photo transfer frames, gradients, word art, and retro photo editing tutorials, this class shares Michelle's never-seen-before creative process from start to finish.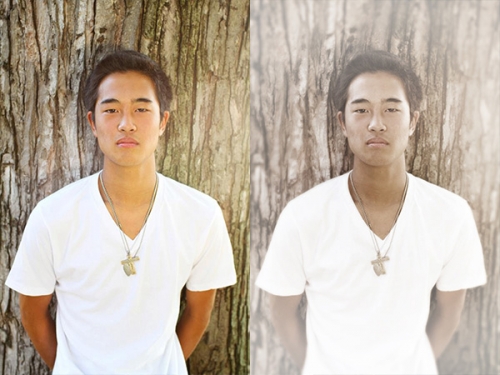 Answers to Frequently Asked Questions:
This class is hosted at Digital Scrapper, not Cottage Arts. But you do NOT have to be a premier member of Digital Scrapper to sign-up for classes at Digital Scrapper.
You will need to have a separate log-in for their site, as your Cottage Arts log-in does not transfer to their site.
The class is self-paced with forever access. However, Rachel and I will only be in the class forum (for seven days) for this first introductory offering as part of the Bonus offering. We can be reached at any time in the future for feedback or to answer questions.
Bonus art will be e-mailed separately when the class begins.
Contact us with any other questions.
Learn more about the class and Early Bird Bonus at Digital Scrapper!
P.S. This class is Self-Paced and you will always have forever access to it, but the bonuses go away on Friday, September 20, 2013 at midnight Eastern time. See Digital Scrapper owner Linda Sattgast's testimonial, along with past students' comments, on the Class Information Page on their site.
P.P.S. Check out our Pop Art Posters and Soulful Silhouettes forever access classes on their site, too! You can always contact us via the online classroom at any time with questions.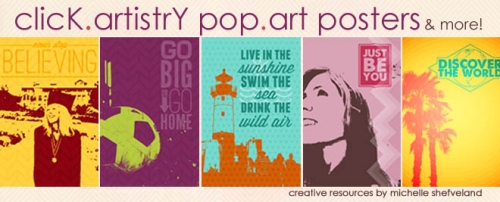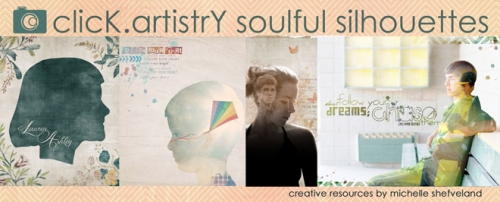 Happy creating!