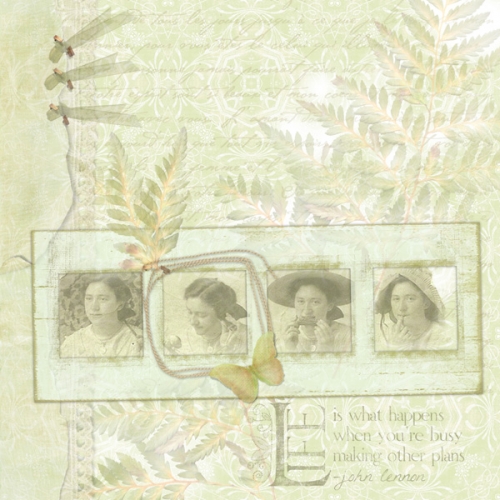 Life by Beth Ervin. Supplies: Nature's Sketchbook Papers 2, Nature's Sketchbook Elements 2, Faint Whispers Page Pak, Scrap.Words – Inspiration , Magical Moments Pak, Simply Moments CD (frame, quote and ribbons and french script overlay), Nature's Sketchbook Sampler Pak 2 (Day 3 freebie)
Here's Beth's layout again….creating the soft monochromatic blended effect just takes a lot of layers, two different papers, a layer of white fill, day 3 freebie ferns, some eraser brushes, experimentation, and the use of layer blend modes. Here's a quick tutorial on how you can do the same.
With Adobe Photoshop, Photoshop Elements, or Corel Paint Shop Pro follow these few steps (tutorial uses Photoshop Elements):
Open image editor
Open papers of choice (sample used Botanical Paper Flourish and Botanical Paper Script from Simply Moments CD).
Drag the flourish paper onto the script paper.
Click on the script paper layer to make active.
Add a white color fill layer (Edit>Fill Layer>White).
Add frame slide (from Simply Moments CD) above white fill layer and torn paper/lace (from Nature's Sketchbook Papers 2) below white fill layer.
Play with opacity of green flourish paper and white color fill layer until you like the effect. I set the green flourish to 27% and the white color fill layer to 47%. Here's how the layer palette looks at this point.

Add the three different fern leaves above the white color fill layer (below or above the frame). Position and size as desired. Duplicate some.
Play with the layer blend mode on the fern layers while adjusting the opacity to get a subtle impression. I liked the Pin Light blend mode at about 25-40% opacity.

Save layout in .psd format throughout process to not lose your work and to be able to edit in future.
My end result is different than Beth's as we used different papers, she used a script overlay, and did a lot of erasing of the top paper. That's the beauty of this process…you can make it your own!
FYI…our Day 4 freebie and team challenge will be posted sometime Saturday morning. We'll leave the day 3 freebie up until that freebie is posted. Enjoy! Michelle