Let's take a trip back in time to those carefree days of our own childhood…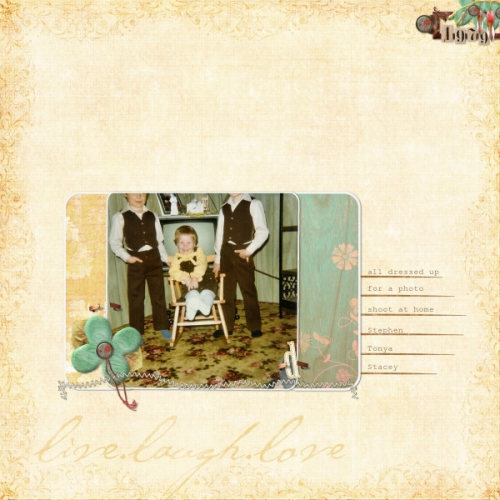 live.laugh.love by Tonya Regular. Supplies: Nature's Sketchbook 4 Papers, Keys 2 My Heart Pak, Nature's Garden Elements, Nature's Sketchbook Elements1 Botanical Imprints, Nature's Sketchbook Elements2 Harmony
Bring back those sentimental days with your "little me" photos and memorabilia. These youthful images lend perspective, verifying that the important things in life don't change and life as a little one was pretty carefree.
Vintage images can add a nostalgic dimension to your scrapbooking. Whether they are early photographs, antique paper items like newspapers or other ephemera, they lend an instant retro style to your books. While "retro" means different things for people of different ages, it's really reminiscent of the styles from the 1950's through the 1970's. You'll find lots of pink and black, pink and brown and blue and brown color combinations, plus cool images and shapes like spirals and big flowers. Whether or not you liked it the first time around, the look is much more contemporary now and oh so cool.
You're sure to have fun with soft and easy colors and spending time with "little you" will surely bring back cherished memories that may have been forgotten. Journal those memories, feelings, and snippets of your life so others can see a bit more of you.
Some fitting digital kits for little me pages are recent additions to our product line: Winged Hope, Magical Moments, Faint Whispers, Nature's Sketchbook.
Our team thoroughly enjoyed spending time with the precious memories that their little me photos evoked….enjoy their pages! See our little me gallery for layout details.