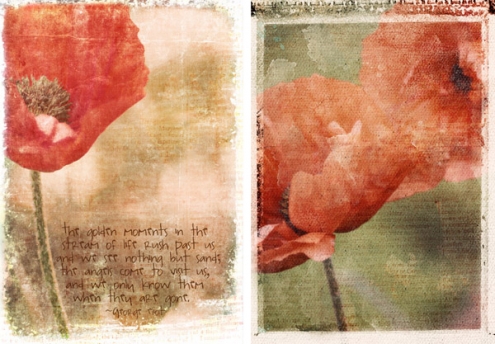 Poppies by Michelle Shefveland. Supplies: Nature's Sketchbook Photo Art Blends 1 and 2 (right and left, respectively), Nature's Sketchbook Papers 3 (Paper13 set at soft light), Grunge Paints 2 Brushes
Hi, everyone! Hope you're having a fabulous spring or fall wherever you are! It's spring here, and we're loving it….the poppies should blossom next week and then our yards will be ablaze with color and their delicate texture.
This week our team played with using texture and masks. Our Naturals Paper Textures, Photo Art Blends, and Photo Masks are some products in our inventory that can help yield painterly results with your images.
Yesterday's clipping mask tutorial will assist in how to use masks to blend with papers and photos, and my tutorial included with our Photo Art Blends will offer steps and insights into how to give images a digital photo transfer effect, as shown in my poppies above. Perfect for using as wall art, greeting cards, or desktop wallpapers, photo art blends are pretty addicting! Many of the team went a step further and incorporated their blends into layouts.
See our team's creations below, and our Photo Blends gallery here for each layout's details.
Oh, and we just added a subscribe option on the right side of the blog for anyone who wants to be informed of new posts, tutorials, sales, and freebies hosted on our blog.
Keep Learning! Michelle