Somehow our team got to talking about nicknames last week, and what a perfect reason to scrapbook! I haven't made my page yet, but see how the team shared humorous tales or interesting facts about their names! I just love how funny Beth's page is about famous Elizabeths.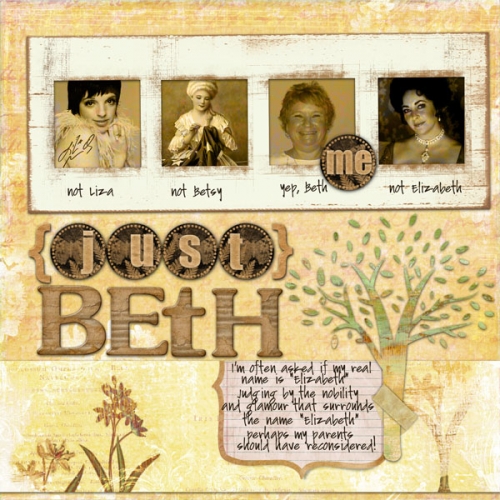 Just Beth by Beth Ervin. Supplies: Naturals 3 Blog Scraps (paper, mat, tape), Build-an-Accent1 (tree), Nature's Sketchbook 4 Papers, Simply Moments CD (alphas and frame)
And, you don't have to take a self-portrait for this subject matter. Check out below how Rachael C. scanned in a pen with the unique spelling of her name and turned it into a cool photo art blend.
Do take time some day to journal how you came to be called your name and other nicknames…such fun stories.
See layout details in our What's in a Name Challenge Gallery. Click on thumbnails below to open enlarged images in lightbox viewer.
If you'd like to be notified of new blog posts, tutorials, and freebies, there is now a sign-up at right. Michelle