Hi everyone…Beth here! This week's team challenge was to focus a layout on one word, and that word was Measure. It was a great challenge, as we all used it to share a special experience or person in our life. You can see all of our efforts at the end of this post.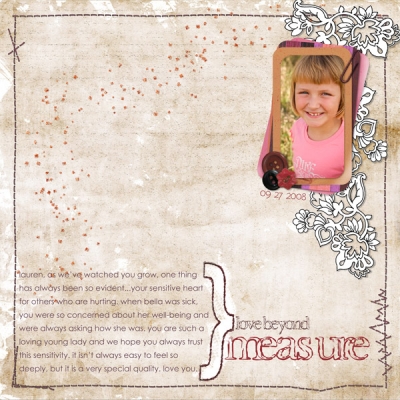 Michelle Shefveland. Supplies: Scrap.Templates 7, As Time Goes By Pak (paper)
Vocabulary in its simplest form is nothing more than a transfer of your feelings. Using positive, upbeat words is a sign of enthusiasm and belief in yourself and making the most of your circumstances. Although not every layout we create may be about something uplifting, trying to resolve unanswered feelings with positive thoughts and words (just as we approach tackling a problem in life) often helps us see the light in even difficult situations.
Below are a couple words (and samples) that can take on many different meanings at various times in our lives. From the simplest things in life to the grandest, sometimes using the same word can evoke many emotions. So, don't be afraid to overuse a title when you are stuck for one. Simply thumb through some of your old pages and rearrange your message.
Success
Waves
Here are our team's layouts focusing on the word measure in our title or journaling. You can see layout details in our gallery.