Hi everyone…Beth here. Bottle caps have always fascinated me for many crafty ideas and are now making a gripping comeback in a whole new way. They are one of the hottest new embellishments for scrapbooks with a versatility that seems endless… from page accents to little frames for photos and more!
B
eth Ervin. Supplies here
First, think beyond the basics of photos inside your bottle caps, try a mini collage using torn scrap paper, wire, charms or glitter for a little extra sparkle. String a few together, or "hang" things from them on your page.
Here are just a few different ways to use bottle caps in your scrapbook layouts and cards.
-Spell out page titles, names, expressions, phrases, or personalize projects with monograms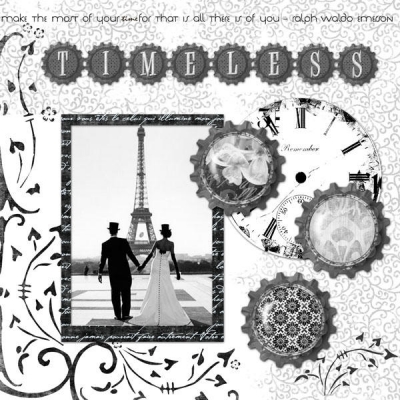 B
eth Ervin. Supplies here
-Change hues on your bottle caps any color to match your layout
-Use your elliptical marquee tool to create a custom circle covers from photos, papers or ephemera for the inside or top of the bottle cap
-Think creative with the circular shape and create things like snowmen or use a bottle cap as the center of the flower (like my first layout above)
-Distress bottle caps for the old antique look by playing with different blend modes, picking up color or texture from the paper beneath
-Place a glass bubble or pebble over what you fill your bottle cap with to mimic a traditional glue or glaze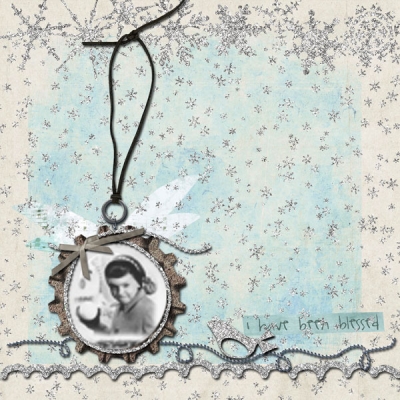 B
eth Ervin. Supplies here
Cottage Arts has two different bottle cap AlphaSets, Retro and Rusty, grade bottle caps in Scrap.Words – School Days, decorative ones in Train Pak, with loads of other circular items to fill these in our digital kits.  Check out Count on Me for a few circular accents that fit nicely.
Get creative and use bottle caps to jazz up one of your next layouts!
Happy New Year!
Michelle, Beth, and the Team at CottageArts.net