michelle shefveland. off the beaten path 9 papers, world travels pak
Hi, everyone. We've enjoyed sunny, upper-20s weather today…spring is on the way!
But, as long as winter is still here I thought I'd share some more perspective tips and ideas using our snowy Off the Beaten Path 9 Papers.
What makes winter perspective pages so easy? If the photos are shot on a snowy background, all you have to do is drag them onto your page, position, and change the layer blend mode to Darken and voila…instant blending into the background (I also chose to erase the birch trees out of the photo)!
It was snowing so heavily during my shoot of Alyssa…check out how many flakes are around her face! Rachael's shot (below) is during a sunny day, which works just as well.
Add a bit of word art and your winter scene is complete. I prefer to keep perspective pages simple in design, focusing on the imagery.
michelle shefveland. off the beaten path 9 papers, inspiration scrap words say it again scrap words

I mentioned it already on my photo blog, but remember to compensate for shooting into a snowy/white background by upping the exposure compensation +1 to +2. Check your camera's histogram to determine the best setting for your conditions. You want the bulk of the data on your histogram to fall on the right side when heavily white, while not blowing out the highlights.
michelle shefveland. off the beaten path 9 papers, simply love 2, simply faith 2
(To see two more tutorials on the blog for creating perspective pages, go here and here. For prom perspective ideas see this post.)
rachael czepyha. supplies here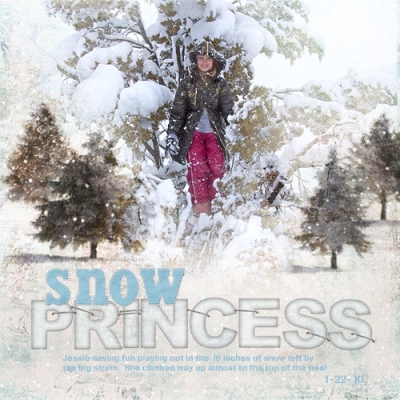 karen wilhelm. supplies here


Snowy photo shoot ideas for perspective pages:
Close-ups in fur hoods or caps are awesome. Aim for sharply focused eyes.
Walking down a snowy country road, away from or towards the camera
Sledding towards the camera
Building a snowman/snow fort
Throwing snowballs
Making snow angels. Add our wings for an even more angelic effect, as Beth did below.
Happy creating! Michelle
beth ervin
. photo: sxc.hu. o christmas tree add-on2,
off the beaten path 8 papers,
simply faith 2