Hello, sunny Tuesday! There is just something about the sun that makes for a happy disposition, huh? 🙂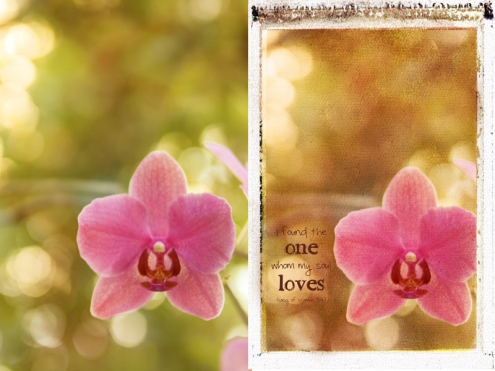 nature's sketchbook photo art blends 1 (used #12 on overlay blend mode), simply love 2 scrap.words

As you may have noticed, I'm a bit "into" nature photo blends this past year. Thought you'd like to see a before and after of one of a recent series of orchids (click on image for enlarged view). The other finished pieces and photo specs can be seen on my photo blog.
fyi…I've updated the tutorial included with set 1 to include a screen shot of all the layers/settings for this piece. For those of you who already have the set, check out the revised tutorial link (included in your instructions file).
Readers have asked what I like to do with the finished pieces. Printing at 8×10, matting, and framing for gifts or wall art is a quick project. Adhering to distressed painted wrapped canvas is another wall piece idea (cropped to square format below).
They also make beautiful greeting cards. Designing a set of 4 or 6 and pairing with envelopes makes a thoughtful token for a friend.
fyi…I've created a Before/After blog category at right and will periodically be adding to it.
Happy creating!
Michelle