Currently, most of my shooting is done with the Canon 7D, however, a point & shoot is always in my purse, as is the My Touch 3G cell phone, so we can capture a quick shot or video of candid moments in our family's life (as well as answer technical support questions 🙂 ).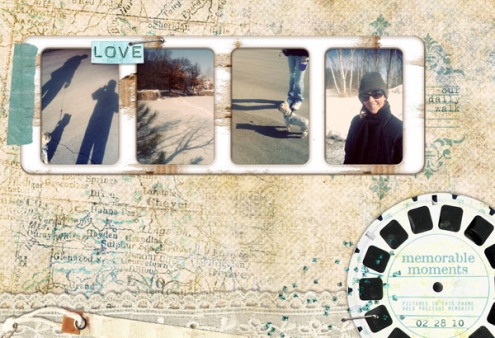 michelle shefveland. supplies here
Here's a layout using some fun shots taken on a walk this week (from the camera phone). I love their retro/polaroid feel. Plus, having a sunny day without the need for snowpants (for warmth) was quite the treat, and it was the first time all winter the roads were dry enough to take Toby with!
One of our latest team challenges was to use shadow photos, like two in this layout, and we'll be posting more of those creations soon.
At this time, there aren't as many cool photo editing apps for Android phones as for the iPhone, but in time this will change. The Google app we use for the My Touch 3G camera is Snap Photo Pro ($1), which offers the following functionality:
* Timer
* Multi Shot
* Stability mode
* Slide out settings
* Adjust bright/cont of images
* Apply filters to images
* Dated/named folders
* Zoom upscaling
* Quickshot mode and widget
For iPhone users, photographer Dewitt Jones and his wife, Lynette, have a cool blog on iPhone photo art. Check it out here.
I just ran across this awesome invention and want to get one to use with our point and shoots. It's Gary Fong's Flip Pod, a point and shoot cage and tri-pod. Love the concept and love all of the funky colors choices. Gary has a video demonstrating it on Vimeo here. I'm most excited about shooting macros and group shots using the timer and this unique contraption.
fyi…Gary Fong was a highly acclaimed wedding photographer before branching out into designing/manufacturing products for photographers. His funny and insightful autobiography, The Accidental Millionaire, is worth the read!
Happy shooting!
Michelle