edited to add: freebie and sale expired during our 7th birthday week in May, but you can subscribe at right to be notified of new freebies and sales. See template tutorial below.
Wow, time flies…Rachel graduates in a month and CottageArts.net is seven years old! So time for a party! Details and prizes are outlined in today's newsletter. To receive future newsletters, free sign-up is here. We'll likely be sending out another newsletter Tuesday if you missed this one.
We're celebrating with 37% off ALL DOWNLOADS for 5 days. Sale ends Midnight CT, Tuesday, April 27, 2010.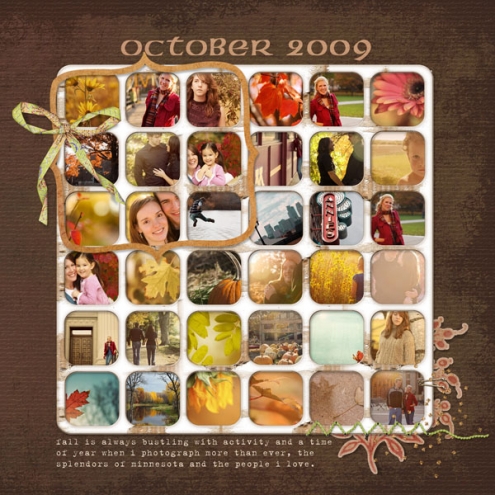 Michelle Shefveland. Scrap.Templates 13, Sweet Midori Papers

And, for each of the next 5 days we'll have team inspiration and a blog freebie download for the day here, which will expire at 9 am CT the next day (like last year, they'll be available in our shop if you miss them).

Today's theme is layered templates, like our Scrap.Templates series. We released a new set today.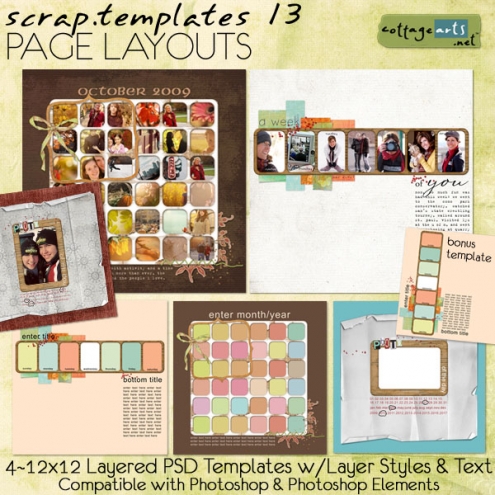 What is a Layered Template? Each element or paper/photo mask is on its own layer for you to fill with your own photos and favorite papers. Elements, drop shadows, and text layers are also provided. Each layer can be moved, re-sized, duplicated, rotated, etc.
We've been offering layered PSD templates on our CDs and downloads for the past seven years, as they are an awesome way to teach beginners about digital scrapbooking and also a super speedy manner to get lots of pages done, while allowing customization.
Instructions for Using Layered Templates with Adobe Photoshop/Elements
(Paint Shop Pro users: PSD templates will open in PSP, however, the layer styles and text will not function, so turn those layers off)
1.  Unzip download pak, using an unzipping utility such as WinZip. Save templates and usage guidelines/instructions in desired folder on your system.
2.  Open the PSD Template in Adobe Photoshop Elements or Adobe Photoshop.
3.  Open 12×12 paper (or photo) to fill shapes with. 
4.  Click on the background paper (or photo) and drag it onto the template file. The paper or image should completely cover the photo mask or shape. If the photo is too small, then make the shape template smaller. Increasing the size of the paper or photo will decrease quality.
5.  Now 'Clip' the background paper (or photo) to the photo mask or shape as follows:
Click on the thumbnail of the paper or photo in the layer palette and in:
PSCS and above – press Ctrl+Alt+G or choose Layer>Create Clipping Mask
PSE – press Ctrl+G
You can move the photo or paper around until satisfied, then click Enter or Check Mark to Accept this function.
6.  Repeat for all layers and photos.
7.  Add journaling by clicking on text layers in layer palette and begin typing. Adjust color, font size, and font type as desired. Or add, some of our custom word art.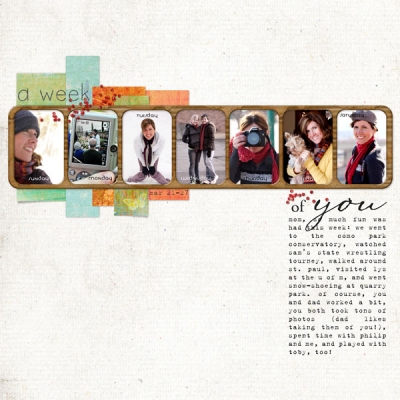 Rachel Shefveland. Scrap.Templates 13,
Blanc de Noir 4 Papers
8.  Save as a layered PSD file to edit layers in future.
9.  Print on home printer (at 12×12 if your printer is over-sized; 8×8 if standard) or upload to on-line print lab for economical 12×12 prints, such as CostCo or Scrapbook Pictures.
fyi…Our Scrap.Templates include a link to our step-by-step Clipping Mask tutorial including visuals.
Get Creative. Rotate or flip the templates for multiple looks. You can duplicate layers, delete layers, move them around, change their colors, etc. Have fun!!!!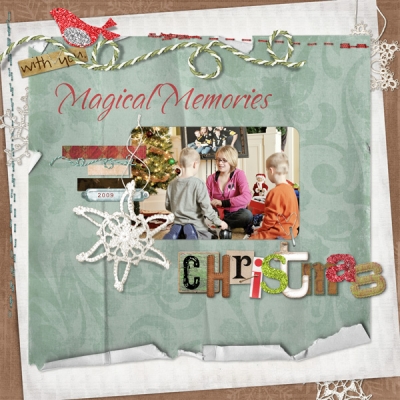 Melinda Ver Meer. Scrap.Templates 11, Snowflake Papers, Merry Berry Scrap.Words

Below (end of post) is a simple layered template freebie to get you started. No drop shadows and a focus on photos; great for all of you Project 365'ers! Come back tomorrow for more goodies and inspiration!
New products will be added throughout the sale in our shop. Here are today's new releases.
Scrap.Template Sampler Free Download by Michelle Shefveland (download expired). Download size is 1 MB (extracted PSD template is 3MB).
Enjoy! Michelle and team