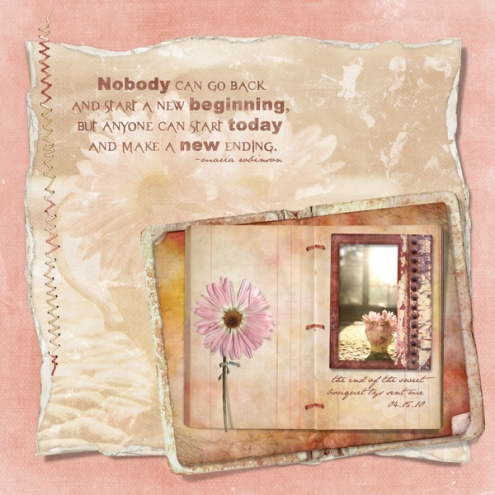 michelle shefveland.
Nature's Sketchbook Papers 1 (tear template), Everyday 5 Papers, Nature's Sketchbook Journals 7, Nature's Sketchbook Elements 3 (frame), Daisy Freebie below
Soft and pretty is a common end goal of my art, and as others note, most often with a nature theme. I suppose it has to do with my background in quilting and small town living with a love of the outdoors.
One of my fondest memories of middle school was a project in Animal Biology where I sat in our beautiful woods in the splendor of fall and sketched 3 different breeds of squirrels and documented their characteristics. I really regret not having that poster any more. Note to self: always scan or photograph important projects for the kids (which may make an interesting post someday)!
My Nature's Sketchbook series has been a labor of love and something I will keep adding to as the seasons change in nature, as well as in my life. Right now my mom is continuing her battle with Stage 4 breast cancer, influencing my journaling and artwork. Creating is certainly therapeutic in so many ways.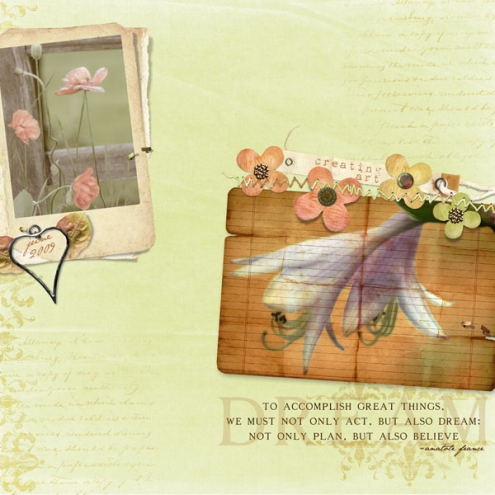 michelle shefveland.
Everyday 5 Papers
, Scrap.Frames 9, Grad Scrap.Words, Nature's Sketchbook Photo Art Blends 2, Nature's Sketchbook Elements 2

Blending images into collages is so much fun! We have a great tutorial on our blog here and our Photo Art Blends all come with step-by- step tutorials and recipes to help give you creative freedom to develop your own style.
For the first layout at top I blended the focal image into the tear template and paper using soft light blend mode. In the one just above, a photo art blend gives the hosta image a crumpled notebook paper effect.
Below are some recent soft and pretties by the team and today's freebie, a dainty daisy accent, ready to go with a soft lifted drop shadow and a contemplative word art quote.
Layout details and supplies can be found in our challenge gallery here.

Our birthday sale of 37% off ALL DOWNLOADS goes thru Tuesday. See last Friday's newsletter for additional coupon code and prize drawing info.
See you tomorrow! Michelle
Nature's Sketchbook Daisy Sampler Freebie by Michelle Shefveland (download expired Monday).