Scrapping digitally with boxes and clusters, when done with realistic shadowing, gives your pages an awesome effect as shown in Marie's page above. Love how it looks like a picture taken of a real cluster of boxes.
In doing some experimenting, below are some canned shadows you can apply to our boxes (they come with no outside shadows) on a 12×12 layout. The size of your finished layout affects how large the settings should be (i.e an 8×8 layout would have smaller settings). Because boxes are deep these settings are very large, blurry, and soft…
In Adobe Photoshop Elements (Layer>Layer Style>Drop Shadow): Size 120, Distance 75, Opacity 50%

In Adobe Photoshop: (Layer>Layer Style Drop Shadow):  Distance 75, Spread 0, Size 120, Opacity 50%
In Corel Paint Shop Pro (Effects>3D Effects>Drop Shadow): Vertical 60, Horizontal 60, Opacity 30, Blur 60, Color Black, On a new layer (this way you can edit it later)

In Microsoft Digital Image Pro (Effects>Shadow>Drop Down Right>Customize Shadow): Move shadow with mouse to desired distance, Transparency 50, Edge Softness 75

If you have another image editor simply play around with the drop shadow settings (opacity, depth, and blur) until it looks how you want. Use our shadows as a guide if you wish.
Here are some of our digital kits with boxes and shadow box frames: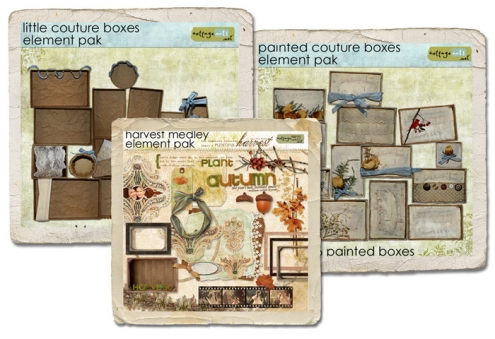 And more creations by the team. Details for layouts can be seen in our gallery here.
Happy creating! Michelle
FYI…we don't blog each of our team inspiration challenges, so to see all of them in our gallery click here. Click on the year to see the weekly challenges for that year.