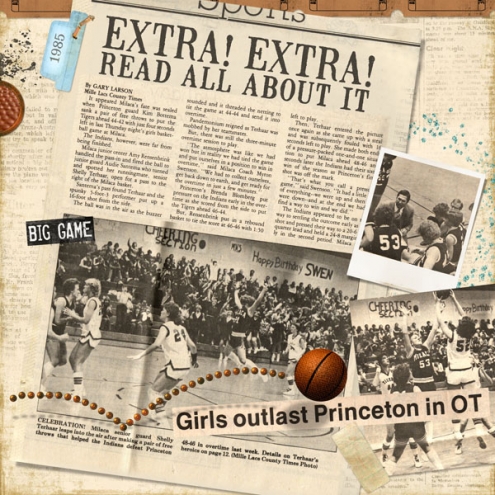 michelle shefveland.
scrap.template and newsprint paper freebie below, Basketball Pak

Extra! Extra! Read all about it! In this era of paperless information, book readers, and Smart phones, this saying has lost its appeal. But for those who heard a paper boy (or paper girl!) shout these words at a busy street corner, it meant breaking news. In scrapbooking, all of our loved ones' memories are breaking news (at least to us), right?!! Today our focus is on recording those moments in time when someone we care about has been newsworthy enough to make it in print.
With kids this happens quite a bit, especially if they are in extracurricular activities. Last week I finally scanned in my high school basketball articles. We won the conference and almost made it to state when I was a senior and being point guard was a highlight of my teen years. What fun we had and how hard we played!
My memorabilia has been stored in Rubbermaid bins, but after 20+ years age was making an appearance. It was time to get them digitally recorded! Since I have an 18MP Canon 7D, I could have photographed them using a tripod and my speedflash bouncing off the ceiling. But scanning did the job.
Quick scanning tips:
Remember to set your scanner resolution at 300 dpi for newspaper and 3oo-400 dpi for photos. The default setting is normally 200 dpi for most scanners.
Many scanners allow you to do image corrections while scanning. I prefer to do it myself so I have more control.

Straighten and crop scan in your image editor.
If your newspaper article takes more than one scan to capture, use Photoshop or PSE's Photomerge functionality to piece them together.
Use Clone Tool to clean up any damage (or imperfections in the Photomerge process).
Adjust levels (Enhance>Adjust Lighting>Levels).

Save as a high quality JPG file. You can then drag onto your layout like any other photo. Yes, that's me flying high in jubilation…one of the most exciting games ever (in my opinion)!
Speaking of teams, our creative team shares some touching memories in their pages below. Patti Senter said it best last week when I commented on how meaningful her page was about her sister she never got to meet. She said, "It's not always the easy things we need to scrap but the ones that are a little more difficult as well."  So true. It is in recording these moments in time that our seemingly trivial hobby becomes quite important. Since my dad is a storyteller it might be in my genes to get these stories written down and also to "tell" my story.
All of us have a story to tell. In scrapbooking we also have the gift/blessing/ability to add imagery and art to complete the story. Cool.
If you're just coming to the blog today, we're celebrating our 8th Birthday with 33% off DOWNLOADS thru Monday, 4/18 (even new products)! (excludes Photo Art Blends which are 20% off). Additional coupon code in this past Friday's newsletter. Sale ends Midnight CT, Monday, April 18, 2011.

Have a beautiful Saturday! Kris and I are heading to Minneapolis to the Flash Bus Tour with Strobist David Hobby and flash guru Joe McNally. Turns out teammate Melinda Ver Meer is heading up from Iowa to attend the class as well. We didn't know! How awesome is that?! So we have a long exciting day ahead. I hope to have some simple and inexpensive lighting tips to share from the day!
Enjoy the fun Scrap.Template and newsprint paper freebie we made for you today (at the end of this post). Great for newspaper articles or just regular photos!
See you Sunday for more goodies and inspiration! I read all of your comments from Friday and want to personally respond to each and every one, but it may be next week. Love the requests you've made so far and should be able to address all of them soon! It was also heartwarming to hear the word art would be useful in your own heritage albums. Great! Get your stories told. Can't wait to hear from more of you about what projects you're working on!
All layouts and details in our gallery here.
Newsprint Scrap.Template Free Download by Michelle Shefveland (Download expired  8 am CT, Sunday, April 17th, ). Download size is 15 MB (1 PSD template and 1 JPG paper). Scrap.Template in PSD format is compatible with Adobe Photoshop/Photoshop Elements and Corel Paint Shop Pro.

Happy creating! Michelle and team