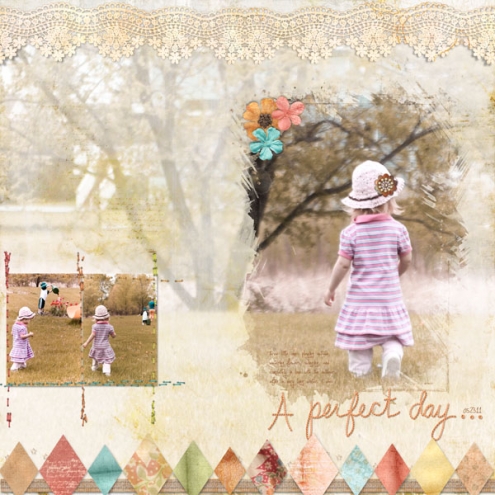 michelle shefveland. mom's cupboard scrap.clusters, nature's sketchbook elements 1 (lace), click.masks 7, stitchies 6 and stitchies 7


We've received quite a few inquiries of late regarding layouts in our gallery with full-page photo blending accompanied with click.masks. So time for another how-to using Photoshop Elements and the layout above (Photoshop follows similar steps). You can see Part 1 of this series here.
Open Adobe Photoshop Elements
Open Paper of choice to blend image into. We chose a paint stroke collage paper from Art Journal Fresco Papers.
Add three layers of the main focal photo sized to fill the page.

Set the bottom layer's blend mode to Overlay at 100%, the next layer keep Normal and adjust the opacity to your taste (I used 20%), then clip the top layer to the click mask (positioned over the focal point of the image, like the little girl in mine).
That's all there is to it!
Note: my camera is 17MP so the photos are sized 12×18 at 300 dpi. If your images are much smaller, consider replicating this at 8×8 instead of 12×12.
Marie shares her blended page of beautiful river rock imagery below.
And, check out our new products in the shop, 20% Off thru Saturday, June 11th.
Happy creating! Michelle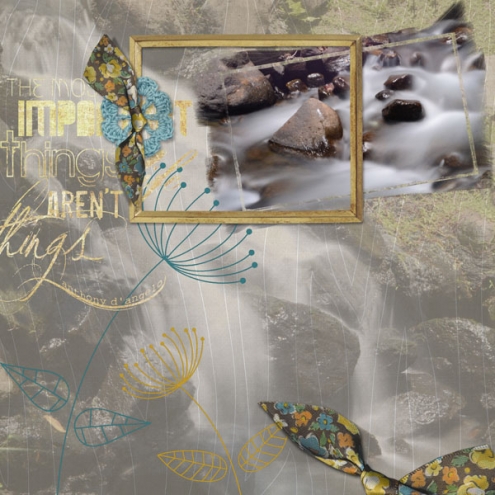 marie di raimondo. my week pak, click.masks 12, this is life 2 scrap.words