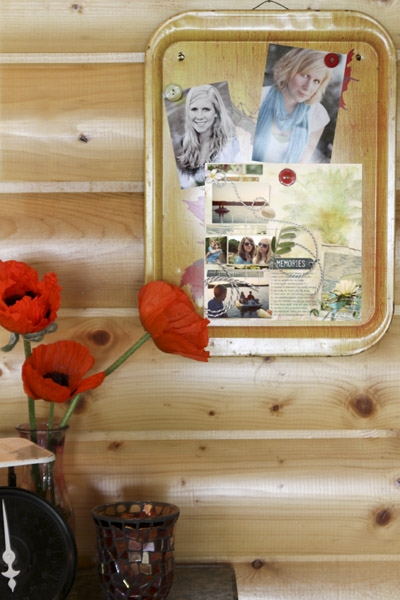 layout supplies
Stopping in for another quickie idea for printing and displaying your digital artwork and imagery. It's a quick DIY project: magnetic vintage cookie sheet hung with wire. Sorry about the bit of glare…the 10 foot window across the room bounces so much light on the logs.
For the past five years we've had it hung at our lake retreat. The vintage vibe and warm hues complement the log walls and we can rotate art to go with the seasons or color scheme of the room. Kind of like a mini pinboard.
To make it simply find an old cookie sheet at an estate sale or antique shop. Drill two holes evenly spaced at the top edges. Cut a length of wire for the hanger. Coil edges of wire on front side larger than the holes. Hot glue circle magnets (available at craft stores) to vintage buttons.
Display photos, memorabilia, and 8×8 printed layouts. The great thing about 8×8 is you can print these on any standard printer on photo paper. I use my rotary blade and cutting mat to trim edges, but a paper trimmer (like Fiskars) works well too.
Here's the whole wall display. I have a recent 12×12 piece custom framed next to the cookie sheet. This can also be changed out as desired.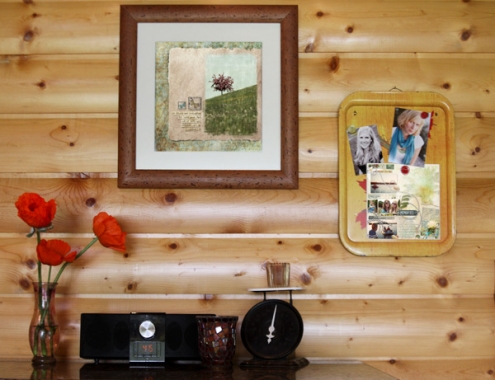 layout supplies
As seen above, it's poppy season here in the upper midwest. Or should I say poppy day. We had 101 degrees the day they opened with 35 mile an hour winds so many didn't make more than a one day appearance. I'll share some shots soon!
Do you prefer modern to rustic decor? Here's a contemporary magnetic board display from Ikea. Love! Like our new Polaroid templates.
Happy printing! Michelle
photo credit: ikea