Summer is here! And with Canada Day Friday and Independence Day on Monday for our Canadian and American readers, it's going to be filled with celebrations galore.
We have tickets to the Minnesota Twins game Friday evening, with Alyssa being honored as the Red Cross Donor of the week (she's organized blood drives at the U of M and her high school for the past few years)…she will be featured on the big screen sometime during the game. How fun! I have not visited the new Target Field so am excited for the experience. Fireworks afterwards, so it will be a lively event!
To honor the festivities, I made this wall collage in thanksgiving for all the blessings we have and for those who protect our freedom.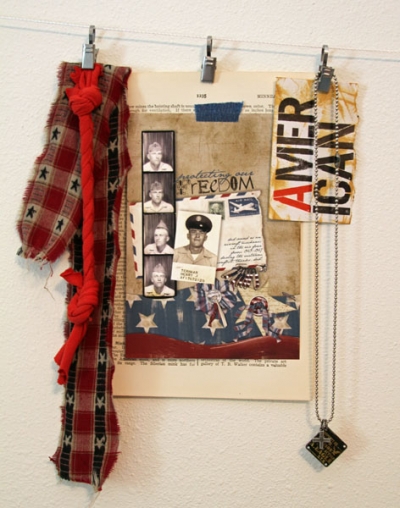 spirit of summer pak
To make the collage I opened up a layered paper from Spirit of Summer Pak, cropped it to 5×7 (the size of the finished printed piece) and then layered on the photos, elements, and journaling. I printed on Epson Premium Presentation Paper, trimmed edges, and then taped to a vintage book page from a Student Reference Book I bought at a antique shop. The page I tore out of the book was about Minneapolis, fitting for my page about Dad.
See our blog post here for instructions on how to make your own photo clothesline.
For the wall collage below, I printed on the old book page itself. This took a bit of trial and error. For my printer, I needed to tape the book page upside down to a piece of copy paper so it fed through the printer straight. I then created the overlay to be printed, which consisted of the lacy leaf, butterfly and word art in the size needed. When printing on book print, it absorbs the ink and the print will show through, so choose bold elements and a lesser quality of printing (like Text and Image on Epson).
Note: the little layout on the right started as a 12×12 and I printed it here at a tiny 4×4. That's one of the beauties of digital!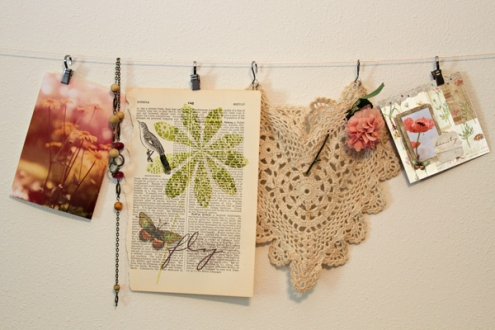 Nature's Sketchbook Lacy Leaves, Butterfly Wings 5
FYI…our What's New Newsletter went out this morning. Check your e-mail box for subscriber coupon code, 5 new products, sale thru Monday, July 4th on all Page Paks and New Releases, and our team's Butterfly Wings inspiration. Enjoy!
Happy creating! Michelle