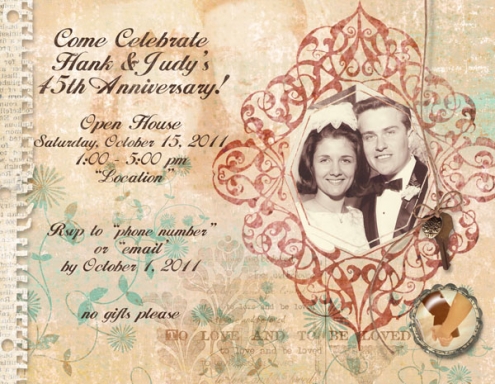 michelle shefveland. simply friendship pak, say it again 2 scrap.words (to love), this is life 2 scrap.words (ornate frame)
Hi all! Just finished designing a custom postcard invite for my mom and dad's 45th anniversary party and thought I'd share a little tutorial on how you can make your own, too.
Making a custom design not only allows you to add personality to the invite, but can also be quite economical depending on size/shape/print vendor. For example, VistaPrint's standard postcard size (5.5 x 4.2) is just $.19/each for 100 and their jumbo postcards (8.5 x 5.5) are often priced as low as $.29/100. I've been printing holiday cards with them for years and am very satisfied with their quality. They offer many upgrade options such as paper type/cardstock to fit any budget. The two things I do not care for are the high shipping costs for anything less than 2 week turn-around-time, as well as all of the cross-selling they present to you during the checkout process. The former can be avoided by signing up to be on their e-promotions list and watching for Free Shipping specials. These seem to occur about once per month and more often around the holidays.
Here's how to design a custom invite using Adobe Photoshop Elements (Adobe Photoshop follows similar steps):
Download Photoshop format (psd) design template for specific size/product you want to design from your preferred print vendor (almost all have downloadable templates to fit their specifications)
Unzip design template
Open design template (File>Open>browse for design template>OK)

Open paper for background (invite used paper from Simply Friendship Pak)
Drag paper onto design template. Position and size using Move Tool as desired, as it's much larger than the template.
Open photo/photos desired. Repeat Step 5 for photos.
Open embellishments/overlays (most from Simply Friendship Pak). Repeat Step 5 for embellishments.
Select Type Tool from Toolbar. On invite, draw text box where you want text.
Choose font, font color, and font size (invite used JohnHancock, size 13-20 pt, color #482f25)
Type party information. Adjust leading (spacing between lines) as needed. Journaling tutorial and free quick page download on our site here.
If desired, simplify type layer and distress with eraser tool and distressing brushes (Grunge Paints 1, 2, or 3)
Important note: keep all important elements, photos, and type well within safe margins shown by blue guidelines

Save as layered psd to edit at later time. Save also in preferred format for print vendor, such as pdf, tiff, psd, or jpg. Here are VistaPrint's.
Choose custom design card type from print vendor. Like this jumbo postcard from VistaPrint.

Upload to print vendor and follow instructions for ordering. Note: VistaPrint normally charges a $5 fee for custom designs.
Another even simpler and more affordable option is to design your invite as a standard 4×6 photo, save as a jpg file, and upload to your favorite image lab. I did this for both Alyssa and Rachel's grad party invites. Shutterfly allows you to pick-up at a local Target.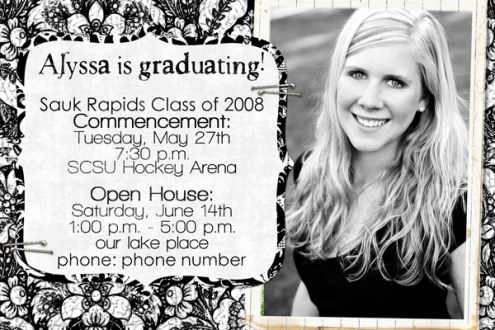 invite template available in blanc de noir elements
Our preferred hometown lab also offers 4×6 envelopes at an additional fee. For $.28 per invite plus envelope, we can design a card, upload to our local lab, pick-up within an hour, and mail out the same day. How convenient is that???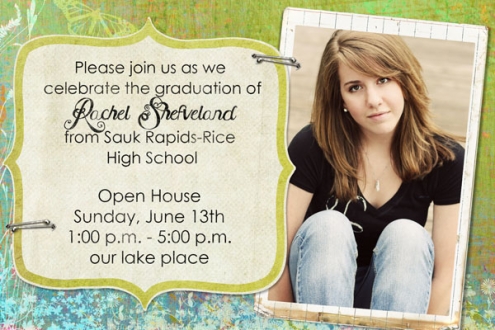 nature's garden papers, world  travels (frame,staples), sweet midori (mat)


If your budget allows, 4×8 or 5×7 cards are another beautiful option. VistaPrint, Snapfish, and Shutterfly offer custom design uploads in these sizes (just to name a few). As stated before, I use WHCC for my client printing. Below are a few I designed for recent photo shoots, plus a coordinating 12×12 print to frame for a grad party. So many possibilities with digital printing!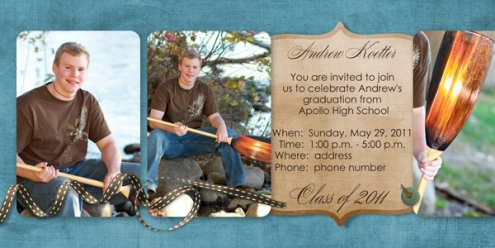 just sayin' pak
,
scrap.templates 20 (modified size to 4×8)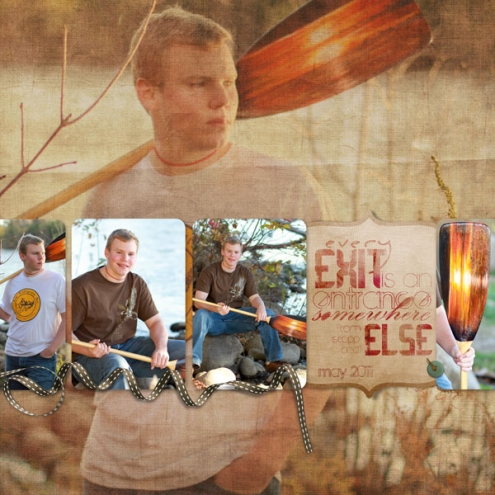 scrap.templates 20,
this is life scrap.words
,
just sayin' pak
Happy creating! Michelle