I totally forgot to show you the rest of Rachel's DIY college apartment! Sorry about that; lots to share today! 🙂
So much fun went into creating the room furnishings and art for her walls with little funds.
Her headboard was a hand-me-down from a friend refreshed with some pretty paint from Valspar.
She made the mirror above her bed by spray painting bamboo skewers and hot gluing them to the back of a simple round mirror.
Our cream muslin Target room divider screen was refurbished with some vintage fabric I have had for years. We simply shirred and pinned it around the back. What a beautiful backdrop it became!
Her living room focal point is the retro spindle bookcase we scooped up for next to nothing at a neighboring yard sale.
Hand cut letters are all that were needed to accent the wall.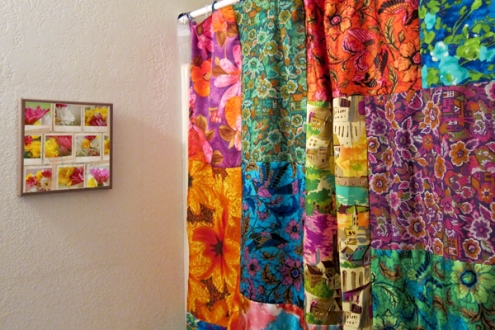 wall collage created using scrap.templates 33

My background in quilting means for a large stash of fabric, out of which we designed this simple pieced shower curtain using retro decorator samples (some of them were so ugly on their own, but in bits pretty cool!).

Painted on old vinyl albums, these shoes are a treasured gift she made for her roommate's bedroom. Love!

simply faith 6 scrap.words

A favorite verse became printable wall art.

One of the most rewarding projects was the pinned butterfly wall. Hand-cut butterflies from magazine tear sheets, creased in the center, were pinned flitting across her wall.

More butterflies grace a silver mirror and re-styled quilt rack painted in a sunny yellow to store her crocheted throws.

photo art blends 5 (on summer dock blend), photo art blends 3 (on poppy blend), simply dreamer scrap.words

A retro corkboard and collage of metal Altoid tins (acting as a magnetic board) grace the area next to her cool desk. Here she can rotate favorite photos and digital layouts.

To accent the last empty wall, we simply tacked an old map next to her hanging jewelry caddy. Library book sales are a great resource for maps.

With just some elbow grease and creative energy, you can create a colorful space to call home!

Happy decorating! Michelle and Rachel