rachel shefveland
Rachel here with a quick how-to on using your journaling as an artistic accent for your scrapbook pages. I recently returned from an exciting and wonderful mission trip in Guatemala. Throughout the experience, I wrote down everything that happened, because I have a pretty weak memory and I definitely didn't want to forget anything! Although my journal entries are personal, and I'm not to keen on sharing them with the world, I still wanted to incorporate them into my layouts. Follow along to see how I did it:
Open Photoshop Elements (Photoshop follows similar steps)
Open a background paper. This example uses 02 Thankful Paper12 from Thankful Page Pak.
Open a photo that you want to blend into the paper. Drag the photo onto the paper.
Resize and position where desired using the Move Tool. To create a more cohesive look, make sure it extends from top to bottom, or side to side.
Experiment with blend modes until the photo is blended nicely into the paper. Blend mode used: to Hard Light at 45% opacity.
Using the Type Tool, click and drag a text box over the entire photo and fill it with journaling (Font used: Lisa Script). Blend mode used: Overlay at 70% opacity.
To make a textured paint brush effect:
Open a photo mask from Click.Artistry Click.Masks 35 and a paper from Thankful Page Pak. This example uses 01 ClickMask35 and 08 Thankful Paper12.
Clip paper to photo mask (Layer>Create Clipping Mask or shortcut Ctrl+G; Mac: Cmd+G).
Experiment with blend modes on the photo mask (not the paper). Blend mode used: Linear Burn at 70% opacity.
I finished this layout with elements from Thankful Page Pak.
Save as layered .psd file to be able to edit in future
Flatten Image
And, here are two more pages documenting more images from my adventure (both using our new Thankful Pak, on sale for Digital Scrapbooking Day through Sunday, Nov. 4).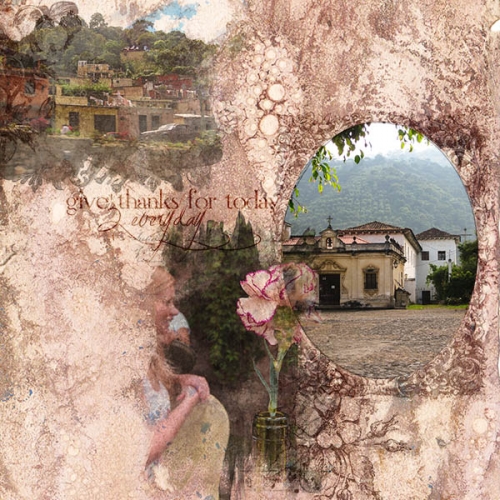 rachel shefveland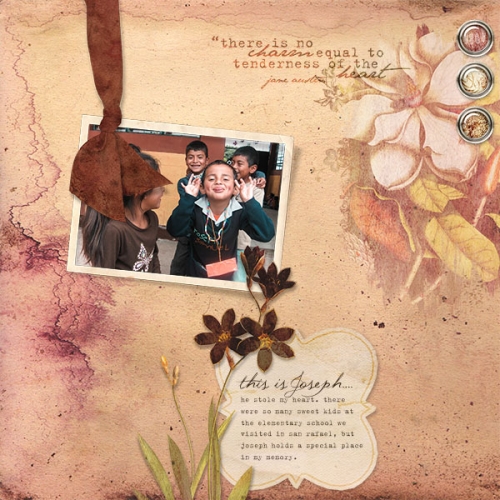 rachel shefveland

I'll be back Sunday with more details (and more photos!) from my trip. See you soon!

Rachel