Hello…Beth here. Wow…I can't believe CottageArts.net is six already! I remember meeting Michelle at a class she was teaching six years ago this summer, and we've been creating together ever since. 🙂
We're kicking off our birthday celebration with 36% off all downloads for six days (ends Monday).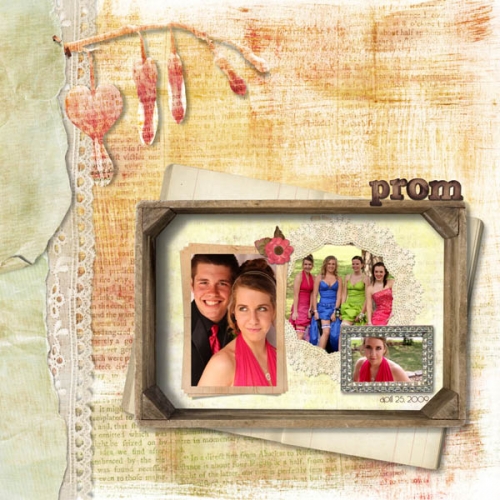 Prom by Rachel Shefveland. Supplies:

Nature's Sketchbook Papers 2, Printers Archived AlphaSet, Nature's Sketchbook Elements 1, Nature's Sketchbook Journals 3, Shadow Box Freebie (below)
And, today's team challenge and free download focus on shadow boxes. A common problem scrapbookers face is how to creatively display memorabilia that has special meaning to us. There are certain items that just cannot fit into a scrapbook. However, they are still an important aspect of our lives and can be preserved nicely in digital scrapbooking with a faux shadow box display.
What is a Shadow Box?
A traditional shadow box is a framed box that hangs on a wall just like a photo frame, however, is deeper so you can frame things with depth. Faux shadow boxes are the perfect solution to display scanned memorabilia directly on your layouts as depth is simply perception in digital scrapbooking and there is so much flexibility. Digital frames used to create faux shadow boxes come in a variety of sizes and finishes.
In addition to the memorabilia that you are displaying, you may want to add additional digital embellishments and textured items that will add realism. Consider the theme of the box when choosing your embellishments to be sure that they flow together nicely.
Tips on Creating a Faux Shadow Box
Choose your photos and scan your memorabilia (scan at 300 dpi or greater resolution). Shadow boxes can be used as a way to display mementos from many different types of events. Some examples include:
Baby – Birth announcement, booties, rattle, spoon, id bracelet, hospital photo
Wedding – Invitation, menu, wedding portrait
Graduation – Tassel, program, cap, graduation photo
Military – Honors and metals, dog tags, letters, photos, documents
Heritage – Heirlooms, jewelry, vintage fabrics, heritage photos
Create dimension. Since you get to choose the amount of room in a faux shadow box, use the space to your advantage. Layer items collage style and create a three-dimensional type design. See Michelle's tutorial on creating realistic drop shadows here. Add a  faux glass front over your display for even more realism and just keep experimenting! Here's my layout.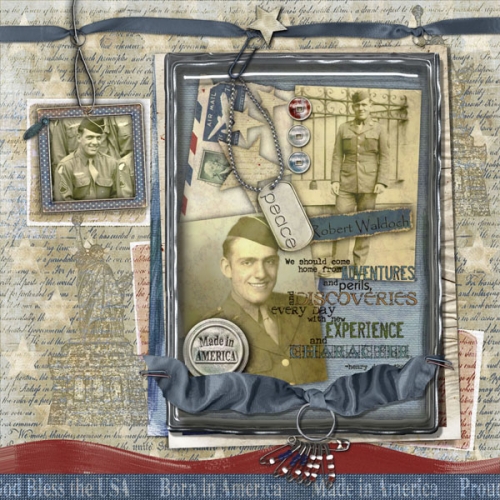 Supplies: Spirit of Summer Page Pak, Dog Tags 1, Soldered Sentiments 1 and 2
Below is how our team used shadow boxes or similar effects in their layouts. See our challenge gallery for layout details.
Shadow Box Sampler Pak Free Download by Michelle Shefveland (expired Wednesday at Midnight CT). Download size is 4 MB. Come back tomorrow for more goodies and inspiration!
We're celebrating our 6th Birthday with 36% off ALL DOWNLOADS for 6 days. Sale ends Monday, May 11th.