Today we're celebrating family. So much to be thankful for, especially with Mother's Day just around the corner. Our team wowed me with their amazing pages showcasing their family trees and I can't wait to share them and today's freebie with you!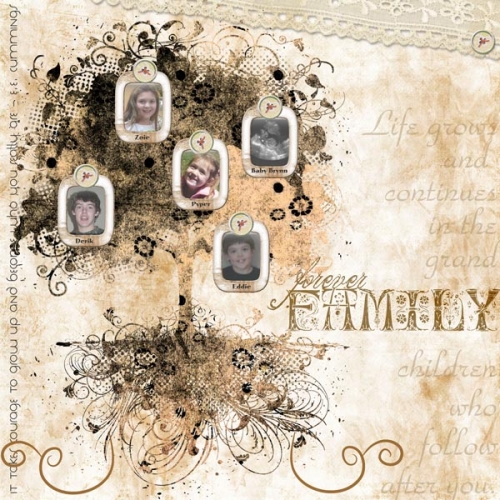 Forever Family by Patti Senter. Blanc De Noir 1 Element Pak;Keys 2 My Heart Add On;Magic of Trees Fishing Hole,Positive Metal Attitude Elements, Font Park Avenue; Notram
First, Beth has some creative ideas for bending the branches of a rigid family tree model…
Teaching children about their family tree is a fulfilling experience for the whole family and there once was a time when creating a family tree was simple. But as time changes, this project can become a painful experience for those from nontraditional backgrounds. Parents estranged, foster parents, stepparents and stepchildren are all a part of many of our lives, directly or indirectly.
Using a tone of acceptance, our children can realize that there is no such thing as a stereotypic family – creating harmony amongst us and discouraging discriminatory behaviors. Family trees endure because children enjoy learning about themselves and love feeling connected. But children need to have a choice defining the family configuration that makes sense to them and doesn't limit them. So, include whoever is important to you rather than filling out rigid blanks.
Create family orchards rather than trees; don't place the leaves in any particular order and leave room for journaling that gives more freedom in telling our personal histories.
Teaching a child about your family tree can still be simple… Here are just a few ideas.
Set aside a special time each month or so to focus on your family tree with a "family day". Make family memories!
Visit living relatives together and let your older relatives tell them stories and talk about their experiences first hand.
Make a scrapbook. Attaching pictures to names gives them a richer picture of what life may have been like for those important in their lives.
Do a mini study on genetics. Let your child know they are a unique individual that has descended from some other unique individuals
Now, see how the team bent the branches of their family trees with some thoroughly captivating pages! Click on the thumbnails to open them enlarged in a lightbox viewer. You can see all the layout details in our gallery here.
And, to help inspire you to make your own family tree pages, below is some free family word art you may find useful, including copper family tree labels. And, we've added our new Build-an-Accent 1 Pak to our Simply $1 section of the store for today (store will have changes to pricing by 3 am CT…expires midnight Central Time). The trees in this pak make a great base for your family tree.
Here are some of the products in our shop featuring trees used in the team's pages.
We're celebrating our 6th Birthday with 36% off ALL DOWNLOADS for 6 days. Sale ends Monday, May 11th.
Family Word Art Sampler Pak Free Download by Michelle Shefveland (Download expired). Have fun! Michelle