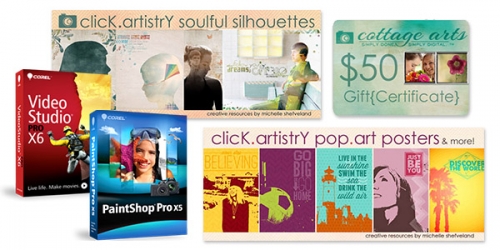 Congratulations to the following five 10th Birthday prize winners:
$50 Cottage Arts' Shop Gift Certificate: Deb O.
Choice of one of Michelle's On-line Classes (Soulful Silhouettes or Pop Art Posters & More) with Digital Scrapper: Kathy L.
Corel PaintShop Pro X5: Ann H. and Deb I.
Corel Video Studio Pro: Judy G.
We have sent emails to all of the winners. You have until May 15, 2013 to claim your prizes.
Thanks again for all of the support and thank you to Corel and Digital Scrapper for their contributions.
Have a great day! Michelle and team