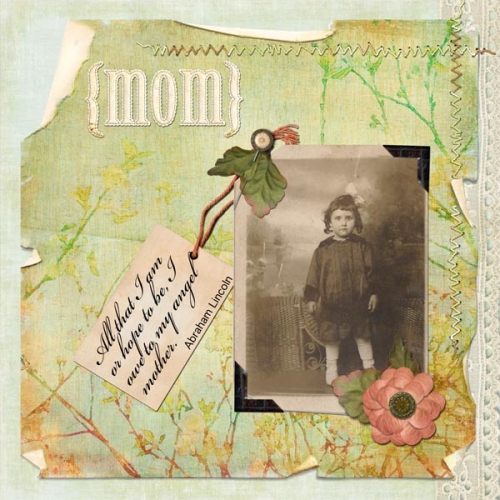 Mom by Joan Standridge. Nature's Sketchbook Papers 2, Nature's Sketchbook Elements 1 & 2, Scarlet Memoirs Pak (photo corners); Font: Beautiful ES
Today's challenge and freebie are for Moms. I'll be adding on to the post with a tutorial later today (edited to add: see tutorial here), but wanted to get the freebie and team challenge pages up for those around the world on a different Friday than us in the U.S! Rachel has her AP History exam in the morning, and Kris and Philip have been gone for two days on a whole grade nature camping trip. It's been too quiet around here! So, I'm going to get some shut eye so I can make Rachel a warm breakfast in the morning!
We're sharing some favorite fern leaves with you today in both .png format and .abr brushes (brushes compatible with Adobe PS CS and above and Photoshop Elements 3 and above). These coordinate with our Nature's Sketchbook Series, as well as most anything! Beth's page uses them as soft impressions on her delicate page.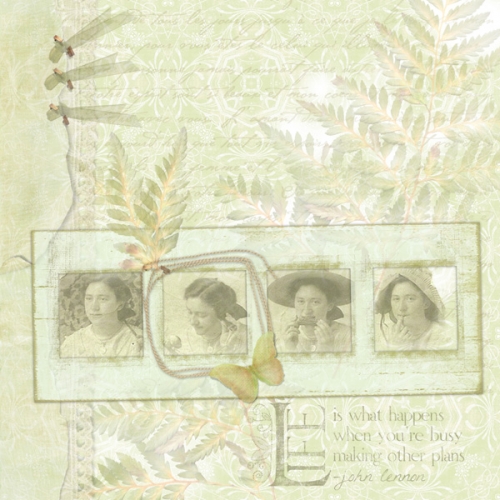 Life by Beth Ervin. Supplies: Nature's Sketchbook Papers 2, Nature's Sketchbook Elements 2, Faint Whispers Page Pak, Scrap.Words – Inspiration , Magical Moments Pak, Simply Moments CD (frame, quote and ribbons and french script overlay), Nature's Sketchbook Sampler Pak 2 (Day 3 freebie – ferns – below)
Without further delay, here are the team's eye-catching creations and the free Nature's Sketchbook download. See full layout details in our gallery here. Remember the birthday celebration freebies expire same day at Midnight CT. Michelle
We're celebrating our 6th Birthday with 36% off ALL DOWNLOADS for 6 days. Sale ends Monday, May 11th.
Nature's Sketchbook Sampler Pak 2 Free Download by Michelle Shefveland (download expired Midnight CT)