My Hero, My Mom...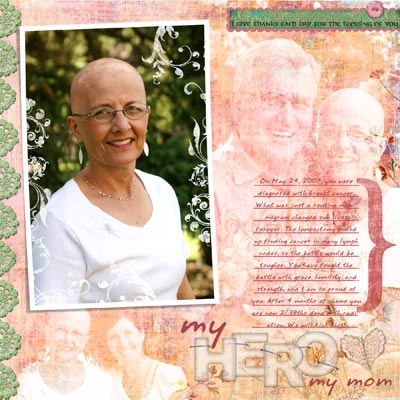 My Hero My Mom by Michelle Shefveland
Supplies: Naturals 2 Paper Pak, Family Matters Element Pak, Flourish Fabrications Element Pak,
Fab Frames 1 Photoshop Actions, Scrap.Edges 2 Brushes & Overlays,
Quotes for a Cure Sampler FREE download, Font: annifont

March 2008: CK Media's Digital Scrapbooking Magazine has published five layouts I made for Mom, sharing a bit about her breast cancer journey last year. This page is to share how she is doing since I wrote the article in October. Thank you for visiting!

Mom finished her four-month chemo in October and subsequent 36 daily radiation treatments in mid-December. The radiation gave her quite a few burns, but they are healing nicely now that treatment is complete.
I am ecstatic to let everyone know Mom and Dad are enjoying a 2-week road trip down to Florida to visit an old Air Force buddy (during his stint in Alaska, which happens to be my birthplace!). Such a blessing that they can relax, laugh, enjoy great food and company after all they have been through the past year.

| | |
| --- | --- |
| Mom returned to work full-time in January, but quickly learned that the seven month treatment regimen took a bit out of her. She and Dad made the decision she will retire from nursing on May 2nd, and will begin a new chapter of her life's journey. In May or June, she will have her first PET scan since treatment ceased, so we are all hopeful for great results and an 'all is clear' from the oncologist. Her hair is coming in beautifully...this time a pepper gray instead of the brown she last saw in July...I love it...I think she would rather have had her brown back. :) | |
For a Christmas gift for Mom and Dad, I created a 15 minute slideshow set to music, showcasing the layouts I created, plus photos captured of our time together, both at play and during treatment the past year. There is something about music that makes images even more emotional for me. We have grown even closer as a family, as is common during a health crisis such as cancer. Life is precious and we continue on each day with hope and thanksgiving.
As I share more below, I encourage anyone going through difficult times to capture what images you can and journal your raw, honest feelings. Some day you may be ready to put them together in a complete story, which is often a very healing process. - Michelle Shefveland
Here is a bit more of Mom's story...
October 2007: In all other years, this month meant I would remember those in my family who have fought breast cancer (with some losing the battle)...my great grandma, great aunts, paternal grandma, and paternal aunt. But this year, on May 24th, my life was touched even more personally by this ominous disease. Mom, 62 years young, who had annual mammograms and took great care of her health, was diagnosed with invasive breast cancer. Stage 3 lobular, estrogen receptive breast cancer...the type that can hide in your lobes, undetected for a long time and many mammograms. Her doctor didn't even feel the lump the week before in her annual exam. Therefore, during her lumpectomy surgery, the surgeon was not expecting to find her lymph nodes cancerous. However, he did...19 of 24 were malignant. This meant a change in expected treatment plans. The toughest regimen of chemo and radiation and a whole gamut of emotions were now going to be Mom's battle for the year.
Three weeks ago she graduated from four months of chemo and we are thrilled! In the past few years, anti-nausea medication has made great strides in decreasing side effects of this once dreaded treatment. Of course, she lost her hair, but is so adorable with her hats, scarves, and bare head that a wig wasn't even necessary. She has just started radiation and has 35 more daily treatments. And, all the while, is still working 3 days a week as a nurse. You go, Mom!
| | |
| --- | --- |
| As you can see, she is radiant, beautiful, and prepared for battle! Her large family and network of friends have been so supportive with prayers, food, cards, visits, and phone calls. All of this matters! If you know someone with cancer or who is ill, any act of kindness will be so appreciated. Dad has been amazing in his love and care for Mom, too...thanks, Dad! | |
As a scrapbooker, you can help in another way. Photograph and journal about your loved one's journey, as they may not feel up to it. I've brought my little point-and-shoot to every doctor's visit and treatment, capturing the visitors, the treatment facilities, the nurses, the laughs, and the love. This battle is worth documenting...the process is healing and empowering. And, as you can see...I chose to share her journey in bright, happy colors...this isn't my normal style or color palette, but for some reason I just wanted them the pages to shout "hope."
| | |
| --- | --- |
| | As her oldest and only daughter with two daughters of my own, I am faced with the realization that our family may have a genetic tendency towards this disease. It means I need to be more proactive in my own health care and pass that on to my daughters. Diet, exercise, environment, and stress management all play a factor. For all women, it is imperative to know your body and act immediately if you notice any changes. Get knowledgeable, be diligent about self breast exams, ask questions, and talk to your doctor about preventative measures if you are high risk. If under 40, ask about how accurate a mammogram is on dense tissue, common in young women. You only have one life...take care and be aware! |
Great sites for valuable information:
Susan G. Komen for the Cure
Breast Cancer.org
American Cancer Society
Breast Cancer Research Foundation

---