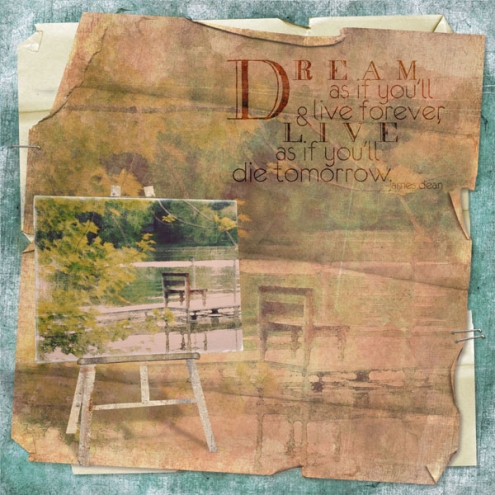 patti senter. faint whispers, off beaten path 2 papers, paint it red

As mentioned in our last post, here's a quick how-to for replicating Patti's pretty Dream collage. It uses our fun canvas and easel from Paint it Red, plus the 3D easel shadow in the add-on pak.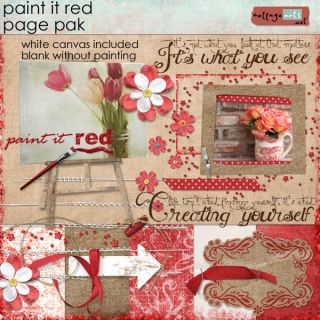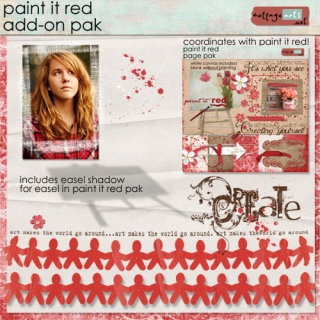 Here's the Layer Palette of all the layers that went into its creation in Photoshop Elements, as well as the Layer Blend modes used on each layer (Photoshop would have the same).
Refer to this while working through the steps below. Click to enlarge.

Open the layered stack of stapled and folded papers from Faint Whispers (this is a flattened jpg).

Open Paper 01 in Off the Beaten Path 2

Drag dock scene paper onto layered stack.

Using Move Tool position paper where desired on top of brown argyle paper

Set Blend mode to Multiply at 80%

Using soft eraser brush, erase edges to fit top paper

Duplicate paper layer

Set top paper layer to Screen blend mode at 20%

Add easel from Paint it Red and Easel Shadow from the Add-On Pak

Drag another copy of the dock scene paper

Using Move Tool, resize and transform to conform to the shape of the canvas on the easel

Clip to Easel (Ctrl-G, Command-G on a Mac) by grouping with previous (Layer>Group with Previous)

If desired take soft erase brush and erase on dock scene along canvas edge to give appearance of painting on the canvas. Experiment with different Natural Brushes that come with PSE or PS

Experiment with blend modes. This collage contains two layers of the dock scene on the canvas; one set to Linear Burn, the other to Linear Burn at 40%

Add Dream word art from Inspiration Scrap.Words. Set to Overlay

Print. Enjoy!
See all of our blog tutorials in our archives here for more details on creating digital art. Be notified of new posts by subscribing at top right.
Beth and I also used the easel below…as Beth shows, you can flip both the easel and shadow horizontally (Image>Rotate>Flip Layer Horizontal) to place on the opposite side of the page.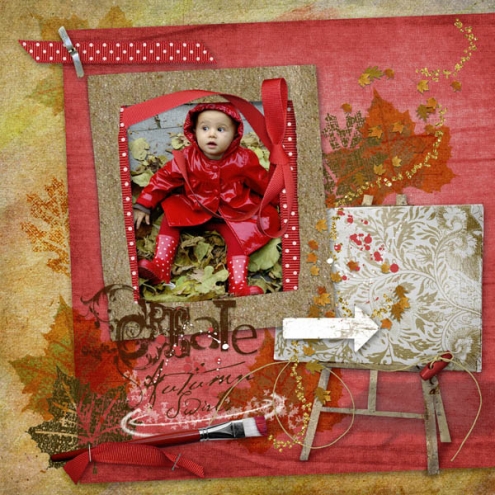 beth ervin. paint it red, autumn swirls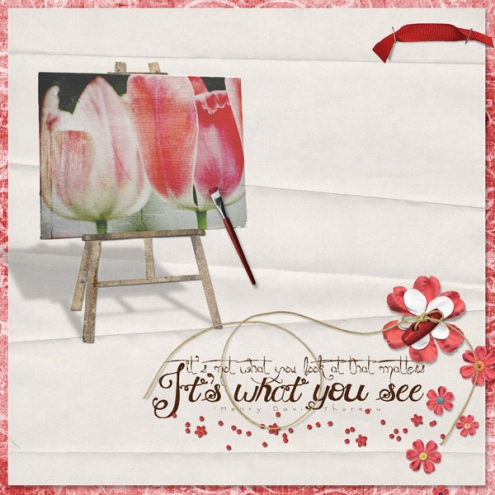 michelle shefveland. paint it red

Keep learning! Michelle